If you're anything like me,you're probably subscribed to multiple blogs and other news sources. Until recently, I just kept sites as a list of favorites, or bookmarks, depending on the browser I'm using at the time. And I probably don't need to tell anybody what a black hole of your time this can be. And sometimes that can be exactly what you want, and other times not. Enter the RSS Aggregator, an RSS aggregator takes a bunch of Rich Site Summary—RSS—feeds, like the latest blog posts, and puts the ones you select in a curated feed of its own. RSS aggregators have been around for quite a while, and I'm sorry to say, I just couldn't really give much of a, erm, thought to setting one up with all of the sites I followed.
But, stumbling around the iPhone app store with a new (read, new, old phone, inherited from my wife) in hand, I stumbled across something that looked like someone had already set it up just for me. It's only on iOS (for Apple devices) at present, and I'm not sure if the author has any plans to port a copy to Android, but those of you with iPhones and/or iPads, should check out Nibbler—Pen & Paper News by Austin Tooley.
I've been using it on an iPhone 5s for a few days now, and it seems pretty solid. I haven't had any technical issues of any kind. I haven't had a chance to check it out on my iPad Air (eldest son is borrowing that for a while), and my wife has the iPhone X… which I am only allowed to set up for use, not to actually use. So a field review from an iPhone 5s is the best you're going to get for now I'm afraid 🙂
Here's what the developer himself has to say about his project.
It's not particularly demanding in terms of space, using only about 17MB, and it runs nimbly enough on my old phone.
Once installed, it loads a curious purple icon, that I tucked away with my news apps…
I'm really not sure about that icon. It looks kind of Aztec God of Pens and Crayons to me, but what do I know?
Once launched, you get a nicely laid out array of the usual pen blog suspects…
Selecting any one of the blogs listed (you aren't free to add whatever feeds take your fancy), opens an in-app browser window…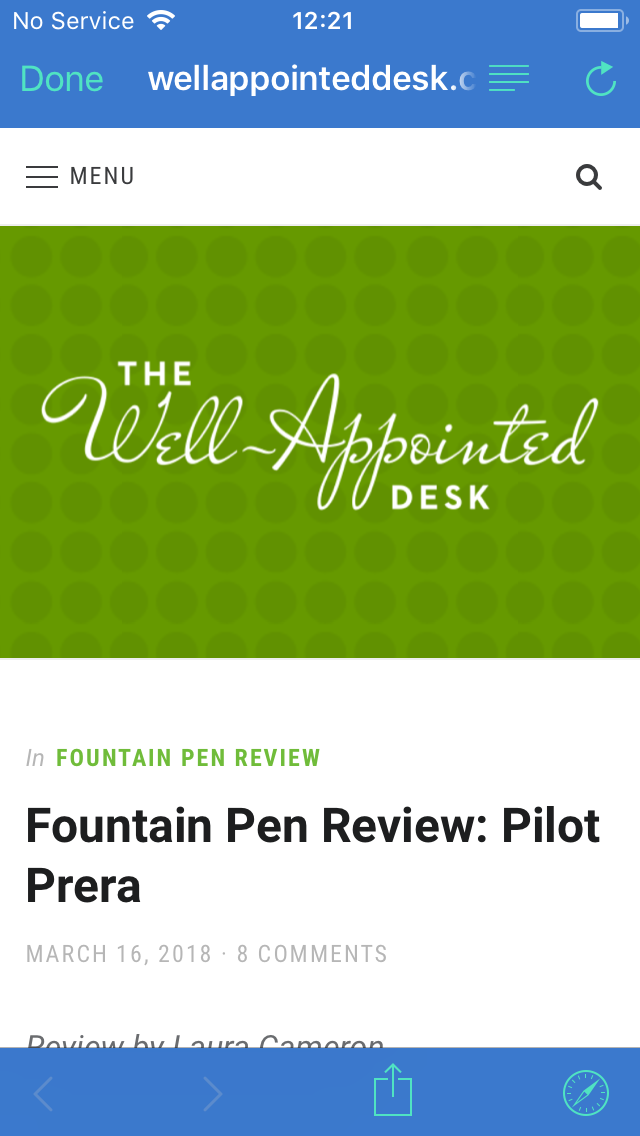 Hitting the [Done] button at the top, left-hand corner of the screen, takes you back to Nibbler's main screen, whilst scrolling down gives a nicely arranged layout of whatever blog you may have chosen.
In-app options are basic—the reader mode allows for a plain, text-only view. The subscribed sites section, lists all those sites that Nibbler currently pulls data from (more on that below); and themes and icons allow a few changes in Nibbler's outward appearance, but these involve in-app purchases, and I haven't gotten round to giving any money just yet.
Although, at $2.79 (US; 2018-03-18), I don't really think there's much room to complain about the price.
Managing RSS Feeds in Nibbler,
aka Let's Moan About My Blog Not Being on the List
In-app RSS subscriptions are listed in alphabetical order, and can be switched on or off with the adjacent, sliding buttons.

There are currently 25 of the top pen and stationery blogs listed in Nibbler's subscriptions.
Which—as you can see—make a pretty extensive set, enough for most people. But…
… there are some glaring omissions, including—and I cannot believe we have been overlooked—some of the friends of this very site, as well as this site itself! This is surely just an oversight by the author, and I'm certain we'll all be added soon enough; but in the meantime, feel free to download the app, and let the author know that he's missed some of the best pen and stationery blogging on the web.
Overall…
A great little app, with most of the blogs I want, arranged in a well-laid-out, nicely designed package. I like it, and I'll definitely be using it a bit more over the coming weeks… and I'll let you know if this site makes it to the subscriptions list.
2018-03-21 Update:
Thank you to Katharine S., who sent me a quick message the other day. Katharine had experienced a minor bug with implementing the themes, which are part of the in-app purchasing options for Nibbler. But she also said that she reported the problem to Austin Tooley, Nibbler's developer, who replied "almost immediately" and said he would implement a fix as soon as he was able. I'd call that pretty responsive customer service for a less than three buck app!