Another few weeks of PhD dissertation mania has meant that I'm late again with this next post. There simply hasn't been time to even answer my e-mail properly in the last month, and I'm left wondering—where has this year gone? It's almost the end of September and earlier this week, somewhat incredulously, I found myself shopping for a 2018 diary. I would usually do this online, but because I am fussy about my diaries, and they have to have a layout I'm confident I can get along with, I won't buy anything until I look it over properly. Some web sites will let you do that (Goulet Pens, you're brilliant), but even then, you don't really know what you're getting until it arrives on your doorstep. Also if, like me, you live in Canada, then ordering from abroad is made less convenient by international shipping.
I also have to admit to an ethical bias here, even if it loses me some hard-won followers. Since the United States has had the current disgrace to humanity occupying its most senior elected office—I refuse to even have its name on the blog—I have been reluctant to spend my money on US products, or through US retailers. It hasn't been a well-disciplined or even well-observed policy on my side; merely a reluctance. Don't get me wrong, I love the US, and the people I have met there; but the idea of contributing my money to something that might be used to justify the policies of the Tweeting disaster that occupies the Whitehouse, leaves me very cold. So, as far as I was concerned, I was shopping in Canada, and starting on foot… although that necessitated a 45 minute drive first.
Buying Local
So, I found myself heading for a more local (to me) book and stationery shop, in Kingston, Ontario. The most excellent and homely Novel Idea…
156 Princess Street
Kingston,
Ontario
Tel. 1 613-546-9799
novid@kingston.net
I am a sucker for book shops, especially the few independents that are still kicking around. Long may they continue.
Anyway, I called in there because their web site shows that they stock the Leuchtturm1917 range of notebooks and planners—they also stock Moleskine, but I have an extremely low opinion of the paper quality in Moleskine products, so I avoid the brand. I knew Leuchtturm1917 was a frequent stock item in a lot of Canadian stores, and I had read some good reviews of their products from some trusted sources…
The Leuchtturm1917 planner features the same soft ivory paper as regular Leuchtturm 1917 notebooks and all the printing is in a light, warm grey that is subtle and not distracting at all. It makes for a very clean looking planner.

I did some rigorous pen testing and found that most fine nibbed fountain pens and felt tips worked well on the paper. Of course, ballpoint and gel pens performed exceedingly well.

Ana,
The Well-Appointed Desk, October 12, 2015,
Planner Review: Leuchtturm1917 2016 Planner
… and…
In my testing, this paper has worked splendidly with every pen and ink I've tried with it. It's an 80g ivory paper, so it's a tad bit thin and allows heavier inks or pens to show through, but I haven't seen any bleed-through. I also haven't seen any feathering or bleeding on the paper…

Overall, this is a fantastic paper. I don't have any complaints.

Jeff Abbott,
The Pen Addict, April 10, 2014,
Leuchtturm 1917 Soft Cover Notebook Review
Whilst neither of these were going to be the product I intended to buy—I wanted a 2018 diary/planner after all—the reviews spoke to a quality brand, which had a history of fountain pen friendly paper. At first glance Novel Idea's display didn't actually contain any of the planners I was looking for, but on my way out, I caught sight of their stand near the main entrance… and it was well-stocked.
What Did I Want?
Top of the list was plenty of writing space, but not as large as A4 (too big for my bag). Weight wasn't really a problem, so a hefty A5 (I knew from past experience) was usually my best option.
Plenty of space per day, so a daily planner, or a weekly, with an extra sheet per week for notes. Lined, not blank. I really can't stand blank notebooks.
Good quality, fountain pen friendly paper, and well-made, so that it wasn't going to fall apart half way through the year.
Black, brown leather, or a navy (if I absolutely had to) cover.
Plenty of space for note-taking.
Two choices immediately presented themselves—the Leuchturm1917 2018 Weekly Planner & Notebook and the Leuchturm1917 2018 Daily Planner. The amazingly helpful lady in Novel Idea gladly opened the shrink-wrap around the books, so that I could examine the products more closely. After giving both the weekly and daily planners a pretty thorough inspection, I opted for the daily, simply on the basis of the space per day. I'm wondering now if I should have gone for the weekly, but I'm pretty happy regardless. Anyway, here's why…
First Impressions
The Daily Planner in Leuchturrm1917's medium (A5) size (you can also get Master A4, and Pocket A6), comes in four basic colors, from left to right (below), these are berry, black, emerald, and navy:
If you order online from the Leuchtturm1917 site, then you can also get the covers embossed with some brief personal text. This comes in a range of 15 different colors, and two fonts, which look like they compliment the overall design rather well. It's also worth noting at this point, that when I checked the Leuchtturm1917 web site, only the https://www.leuchtturm1917.com site (which I viewed with International English as a language specification) and the United Kingdom domain (.co.uk), showed the weekly and daily planners as available—Canadian (.ca) and United States (.us) domains don't list the weekly or daily planners at the time of writing (2017, September 21).
The planner covers are some of the best faux-leather I've encountered on a notebook, and the spine and quality of manufacture are of an extremely high standard. Including all the relevant taxes, I paid a few cents less than $29 (Canadian; September, 2017) for one of the black planners, and headed on out the door a very happy customer. An hour or so later, I was taking photo's (how many other people out there, take photo's of their stationery I wonder?)…
The planner is about 145mm wide, by 207mm long, and about 22mm deep (5.7in x 8.3in x 1.1in). This makes it quite a chunky item for your bag if you're carrying it around; but that's not an issue for me. Leuchtturm's planners and notebooks come with that distinctive wraparound sleeve, which doubles as product info' and a thank you for purchasing note.
But the wraparound sleeve isn't the only paperwork you get with the product.
The card introduces the new layout of the 2018 planners…
The enclosed leaflet provides product and company information, which was (surprisingly) quite interesting. Read all about it in this PDF (2MB download), and it doesn't stop there. When you open it up, a sheet of self-adhesive labels for the cover/s and the spine are included, so that you can label the book for archiving later…
I love this idea. So many of my notebooks have pieces of paper under a strip of sticky tape down the spine. This is by far a better solution. The last sheet of loose paper inside the book is a template, lined on one side, and with a grid pattern on the other. This is supposed to help those of us who can't write in an organized way on blank paper. I say supposed, because when I tried it behind one of the blank notes sheets at the back of the planner, I couldn't see the lines through the page. If I really want to use this, I'm either going to have to make my own, or at the very least, draw over the template's lines with a bolder black. Fortunately I never use a grid layout, so I'll be spared that task.
Maybe they'll be fine for you, but for me? Not so much. Maybe it's just my eyesight.
The planner is kept closed with a firm elastic band, that seems like it will tolerate plenty of use; and the spine has a subtle 2018 embossed at the lower corner…
But What's It Like Between The Covers?
The front and rear inside cover pages are firmly and evenly fixed along all their edges, and the planner is thread-bound, so it lays pretty flat at all of the various points I tested. The first page bears a please return this to box in case you leave it at Starbuck's (again).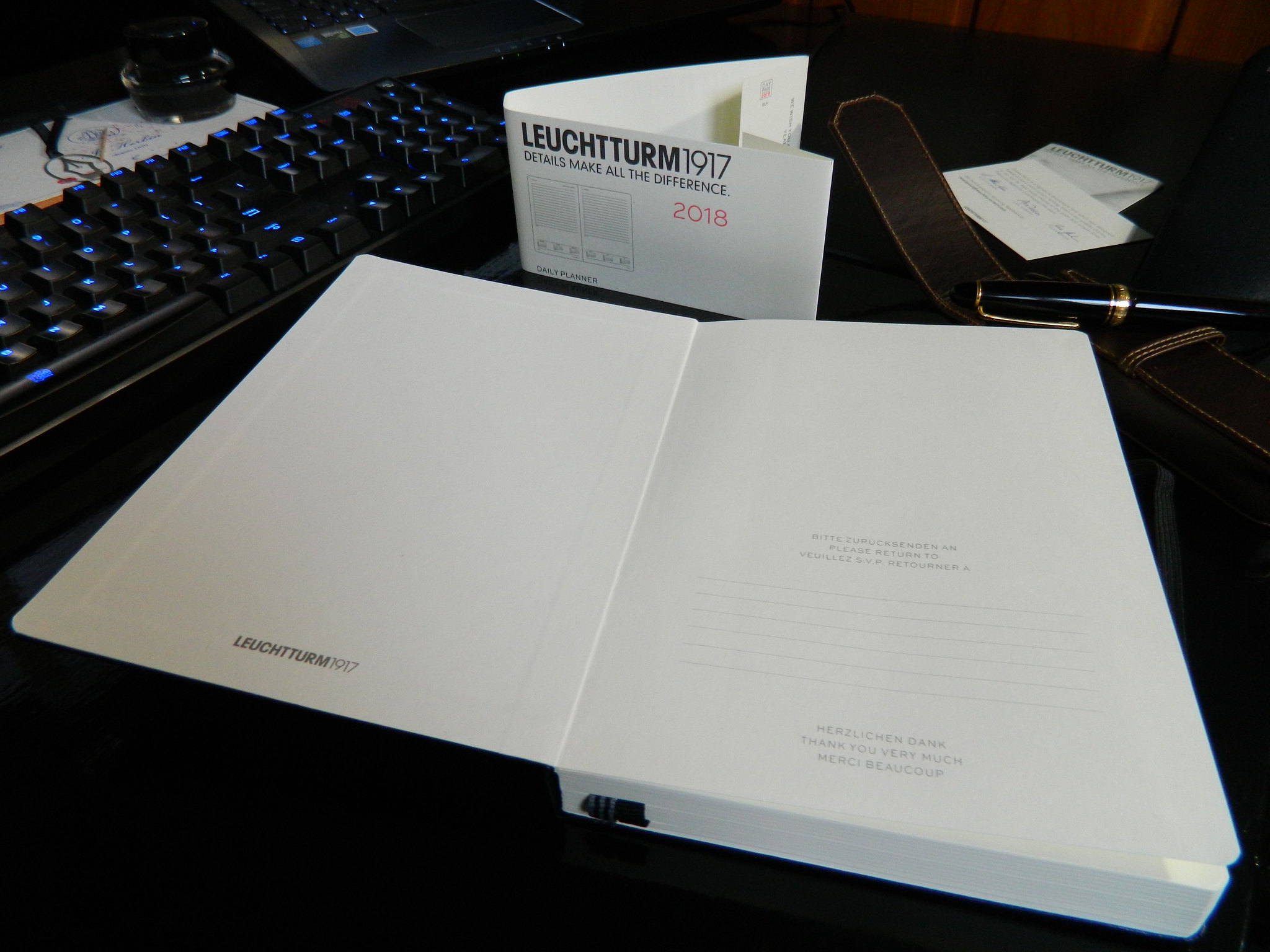 The next three pages have a year-to-page calendar for 2017 to 2019…
… and the next six pages have a year overview, with three months to a page, for 2018 and 2019. They also indicate moon phases, which I have always found to be—and this is an entirely personal opinion—about as useful as a pair of Speedos in the arctic, but I digress.
Then follows a double-page spread of international holidays, which could be more helpful if it told you what they were, instead, you have no real idea which is Easter and which is Nevruz in Albania; and I'm sure somebody wants to know, somewhere. Maybe in Albania.
The next two pages are a bit more relevant to me, and the first time I have had them in a portable diary, they provide a week-numbered project overview for 2018:
Now we get to the main body of the diary/planner, every weekday from Monday January 1st 2018 to Sunday January 6th 2019 has a day per page. This is broken down into lines from 07:00 to 22:00 each day, with a section below for notes, and each week is numbered at the bottom of the page. Leuchtturm say that in order to "keep the daily planner compact, Saturdays and Sundays share a page." Personally, I could put up with a heftier planner and given Saturday and Sunday a page each as well. I work weekends, and when I don't, I still do stuff.
The planner has two ribbon page markers, which I like; and, in keeping with Leuchtturm's attention to detail, in the black book, one is a plain black, the other, a striped black and grey—which I thought looked pretty good.
After the daily pages, come eight perforated (for easy removal), blank notes pages, and of course, the lined and grid pattern template.
Lastly, on the inside back cover, is mounted quite a tough, durable expanding document wallet:
Pretty much the first thing I ever put into these wallets is a sheet of J. Herbin's blotting paper, but this time, I'm not so sure it's going to be that necessary.
What's The Paper Like To Write On?
To me, this is about the weakest point of the diary/planner, and even at its weakest, it's still far better than Moleskine and most of the rest of the field (in my opinion). The paper is a nice 80gsm subtle ivory. This makes it quite a bit thinner than the Rhodia/Clairefontaine and Life brands that I'm used to and enjoy. But because it's a little lighter, the dry time for the pen that I tested it with seemed a bit quicker.
I wrote the sample above with a Platinum 3776 Century fountain pen, 14K gold medium nib, and Sailor Kiwa Guro Nano (Ultra Black) ink. Like I said, it dried nice and fast, and went on the page beautifully, and as smooth as I am used to with that pen. There was no discernible feathering, but there is quite a bit of show-through on the reverse of the page. This isn't anywhere near enough to prevent anyone from using both sides of the page. Even with a great deal of writing, legibility is not effected in any significant manner. It's just a touch more than I'm used to with the heavier branded paper that's all.
Oh, and if you're in the area, I can also fully recommend the plumbers and the chimney sweeps, they get copied into my emergency telephone numbers every year.
Summary
A great deal better than its nearest competition, not cheap, but incredibly well made, by a company with great attention to even the smallest detail. The 80gsm ivory paper is excellent despite my nit-picking. There is a lot of writing space in this book, but if you need more, there really isn't much out there unless you go to A4, and Leuchtturm have that covered too. For my needs—and I appreciate these might be in the minority—this is a great planner, and I'll be looking for a 2019 version this time next year.